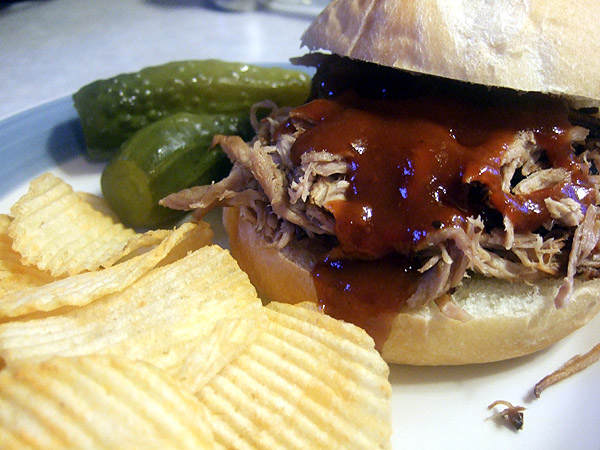 Sometimes you just want a little bit of summer all year long. That's when it's time for picnic'y foods!
This is perhaps the easiest recipe, one of the most versatile, and very cheap. You can't screw it up. It's impossible. You can make any number of dishes out of it when you're done: BBQ pork sandwiches, a topping for nachos, tacos, carnitas, use some to make a pork stew, perogies, a porky version of shepherd's pie….You get the idea. It's stolen from the lovely goons over at the SomethingAwful forums. And while that can be a scary, scary place, the food forum is actually quite good and full of food snobs where I fit in quite comfortably.
Crock Pot Pulled Pork
1 pork shoulder, whatever size you can fit in your pot
Worchestershire sauce, about 1/4 cup, depending on the size of your roast
Light brown sugar, enough to cover your roast
Lots of salt
Plop your roast in your crock pot. Cover that baby with worchestershire, until there's a little pool in the bottom of the pot. Pat brown sugar liberally all around the roast until it's covered. Put the lid on, turn it on low, and cook for 10-12 hours. If you have a relatively small roast, check it at 8 hours. If it's falling apart, it's done. If you're impatient, you could probably get away with cooking it on high for 5-6 hours, but low and slow is the way to go.
Once it's done, take it out of the pot and let it rest on a cutting board until it's cool enough to handle. Then pull into shreds and salt liberally. And I mean liberally. You will use more salt than you think you need.
Then, do whatever you want with it! I usually just keep it plain and add BBQ sauce to it as needed, so I can use the leftovers for tacos or whatever else. If you're going for picnic'y, then serve with chips and pickles, of course.