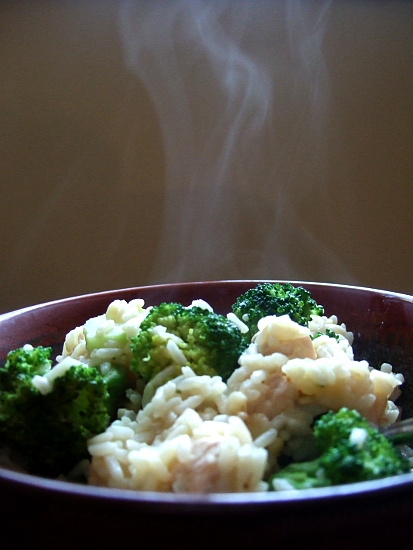 This is a recipe that was printed on the back of an Uncle's Ben's bag years ago. We used to eat it at my mom's a lot, as it's easy, fast, relatively inexpensive and good for you (perfect for weeknights!). They don't make the Uncle Ben's pilaf mix we used to use, but I just subbed regular white rice with some orzo pasta and it works well. I top mine with a ton of fresh lemon (or lime, if lemons are too expensive) because I'm a lemon freak and anything with broccoli gets doused in lemon.
I didn't make this for Nick  because I figured he wouldn't like it too much — too much broccoli and flavors that are too subtle. But surprisingly, he requests it now. The recipe as it is makes plenty of leftovers, which we love. You can easily halve the recipe if you want.
Parmesan Pilaf
1.5 lb chicken breasts, cut into bite-size pieces
2 1/2 c long grain white rice
1/2 c orzo
6 c chicken broth
4 T (half stick) butter
6 garlic cloves, chopped
4 stalks fresh broccoli
2 handfuls grated parmesan
1. Brown the chicken in a Dutch oven or other pot with a tight fitting lid. Remove from pan.
2. Add butter and garlic over medium heat, saute for a minute until fragrant and butter is foamy. Add rice and toast in the pan for 4-5 minutes, until the grain obsorb the butter and turn nutty smelling.
3. Add the chicken broth and the reserved cooked chicken. Scrap the bottom of the pan to release the brown stuff (fond). Cover and cook for 12 minutes.
4. Meanwhile, chop your broccoli. I like somewhat large florets. I also peel the broccoli stems with a paring knife: slip the knife under the fibrous part of the peel, then hold it against the kinfe with your thumb and pull. It will peel off down the stem. The heart of the stems will be tender and lovely once cooked.
5. After 12 minutes of cooking, add the orzo to the pot and stir. Top with the broccoli, cover, and cook another 8-10 minutes. The broccoli will steam on top of the rice.
6. When rice and broccoli are tender, turn heat off and stir in parmesan. Season with S+P.