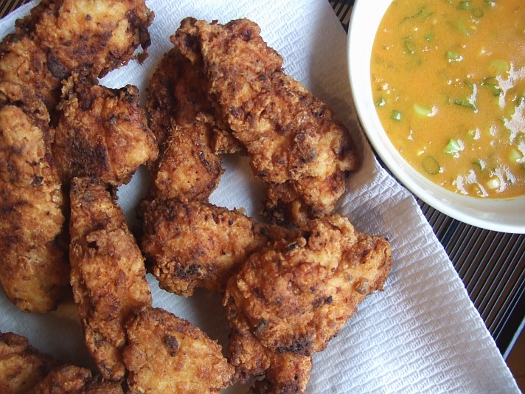 Happy 4th everyone! Another holiday…and another excuse to try some new recipes that also happen to be pretty unhealthy! But I figure if I do things like fried food only on holidays, that's not so bad. Right? Right?!…
Anyhow, this is a recipe from a Cook's Illustrated Best of 2008 book I got last year. For some reason it's not on their web site, so I'll post an abbreviated version of their usually OCD instructions. Nick and I were originally a little dubious because we're not big fans of mustard sauce and it seemed a little thousand island dressingy, but it turned out better than we both expected. Nick was hankering for fried chicken and we both love spicy, so there you go. We both also prefer boneless fried chicken to meat on the bone — it just grosses us out picking meat off the bone sometimes. I changed the recipe slightly based on what I had on hand, and it still worked perfectly. None of the coating came away from the chicken as I was frying it, which has been the bane of my existence when it comes to fried chicken in the past.
Firecracker Chicken
Sauce/marinade
1/4 c sliced pickled banana peppers, finely chopped
1/4 c pickling liquid from the banana peppers
1/4 c fresh lime juice
1/4 c yellow mustard
1/4 c veggie oil
1 t mustard powder
1 T sriracha
1 T ketchup
2 T brown sugar
3 cloves garlic, minced
1 habanero, minced
4 green onions, sliced
Chicken
~3 lbs boneless skinless chicken breasts
2 c AP flour
1/2 c cornstarch
1 T salt
1 t baking powder
4 egg whites
canola or veggie oil for frying
1. Combine all ingredients for the sauce/marinade in a bowl and set aside.
2. Pound the chicken until 1/2-inch thick, then cut into strips. Place in a large ziploc bag, add 1/4 c of the sauce and squeeze the bag to coat the chicken. Marinade in the fridge for 1/2 to 2 hours.
3. When chicken has marinaded, combine flour through baking powder in a large bowl. Add 6 tablespoons sauce mixture and combine with your hands until it resembles wet, coarse sand. These clumps will stick to the chicken and make little crunchy parts when you fry it.
4. In another bowl whisk the egg whites until foamy. To coat the chicken, pat each piece dry on a paper towel. Dip in egg whites, let excess drip off. Lay in the coating mixture, cover the piece with coating, then press it into the chicken. Shake off excess coating, then place on a rack or tinfoil. Coat all chicken and let sit for 15 minutes (or refrigerate for up to 4 hours).
5. Heat oil in a large high-sided skillet or Dutch oven over medium-high heat until shimmering (I use an old cast iron skillet with high, straight sides that I love). Fry the strips in batches until browned on both sides, 2-4 minutes per side. Serve with sauce for dipping.