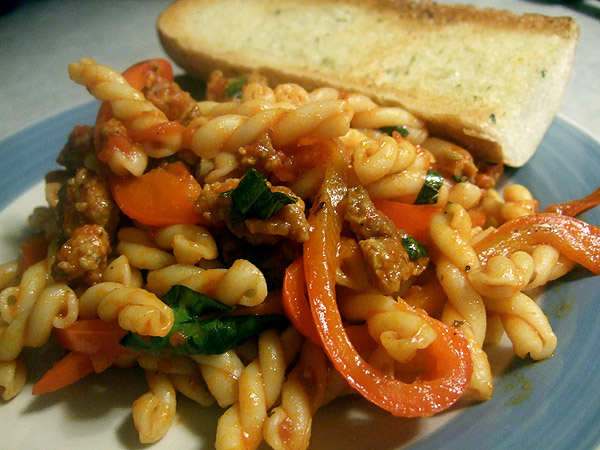 Sometimes I just don't feel like cooking. (Gasp, right?!) Or I just plain don't have much time to cook. In those cases (and when I'm feeling rich), I go and buy a bottle of Rao's brand arrabiatta sauce. Yes, I know it's $8/bottle, but it's so good. I don't do this very often, only when it's on sale. If you don't want to spend that money, you can easily substitute canned crushed tomatoes (san marzano, please), along with some garlic, lots of red pepper flakes and a bit of dried oregano and basil.
Cheating Pasta Arrabiatta with Sausage
1 lb short pasta, I used Barilla gemelli
1 jar arrabiatta pasta sauce, I use Rao's
1 lb hot Italian sausage, links or bulk
1 red bell pepper, sliced
fresh basil
parmesan
1. Boil water, add salt, and cook pasta to al dente, timing it so the pasta is done cooking about when the sauce is ready.
2. For sauce, add bell pepper strips to pan over high heat and sear until small black marks appear on the skin. Remove from pan.
3. Remove sausage from casings if in links, and brown in the same pan. Ad jar of sauce once sausage is cooked through, and simmer over medium-low for 5 minutes, or until pasta is cooked.
4. Drain pasta, then return to the pot. Add sauce and sausage, along with bell pepper strips and fresh torn basil. Stir to combine. Add parmesan on the plate to taste.
Serve with garlic bread and/or salad. (My garlic bread is simple and slightly ghetto…Halve French or Italian bread, spread with warmed butter, sprinkle with garlic salt. Pop under the broiler until browned and crisp.)