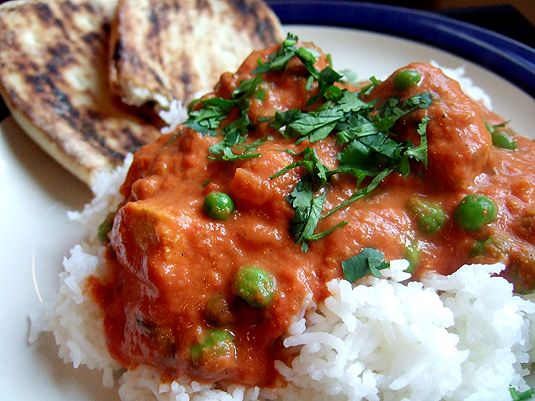 I consider this recipe one of my little victories because Nick actually likes it. I always figured he'd like Indian food (one of my absolute favorite cuisines) because he loves bold, highly spiced and seasoned foods. But the firs time I took him to an Indian restaurant, he didn't enjoy it at all, really. Then again, my saag wasn't very good there either, so I hoped it was because it just wasn't a very good restaurant. I made this one night, and now Nick actually requests it. Success!!
This isn't exactly very authentic, but since when is a dish often called "butter chicken" considered authentic anyway? I used a Cooks Illustrated recipe as a starting point, but then I mostly wing the spices from there. I don't use any pre-blended spices (garam masala or the like), even though that might be a bit easier if I found a blend I enjoyed. I find it's just as easy to pour the ground spices in a bowl first, keeping the genera ratios of spices the same for each batch. Sometimes I might add more cinnamon if I feel like it, sometimes more cumin, etc. I'd say that I easily doubled the amount of spices called for in the original CI recipe, though.
Also not traditional, I add a bunch of frozen peas right at the end of cooking. I usually don't make a side dish with this (besides some naan from Trader Joe's), so I'd feel guilty if I didn't some kind of veggie in there somewhere. Feel free to add some potatoes to this dish to stretch the chicken and make it a little more economical as well. I'll do my best on the spice quantities, but since I don't measure them, they're just guestimations. Go by your taste and add more as you go along.
Chicken Tikka Masala
Chicken/marinade:
2 lbs chicken breasts of combo breasts and thighs
1 c plain yogurt
2 T fresh grated ginger
2 cloves garlic, minced
1 t cumin
1 t coriander
1/2 t cayenne
Masala:
2 28-oz cans crushed tomatoes (I love Dei Fratelli)
1 large onion, diced
3 cloves garlic
2 t fresh grated ginger
3-5 serrano chiles, chopped
~2 T coriander
~1 T cumin
~2 t cardamom
~1 t cinnamon or one cinnamon stick
~1/2 t black pepper
~1 t cayenne
~ 1/2 t tumeric
1 c heavy cream
12 oz frozen peas
cilantro, chopped, to taste
1. Cube chicken into large chunks and combine with other ingredients in a plastic bag. Marinate 1-2 hours.
2. Heat butter or olive oil in a large skillet or Dutch oven over medium heat. Add onions, chiles, garlic and ginger and saute until soft. Add dry spices and toast until fragrant, about 1 minute.
3. Add chicken to pan directly from marinade, letting excess drip off. Cook 7-9 minutes over medium, until browned in some spots, but without letting the spices burn. The yogurt will sort of caramelize and give a nice fond with the spices. The chicken will not be fully cooked.
4. Add tomatoes, stir well and simmer for 20 minutes over medium-low. Taste, season with salt and adjust other seasonings as you like.
5. Stir in cream, peas and cilantro. Bring back up to heat before serving over basmati rice and naan.