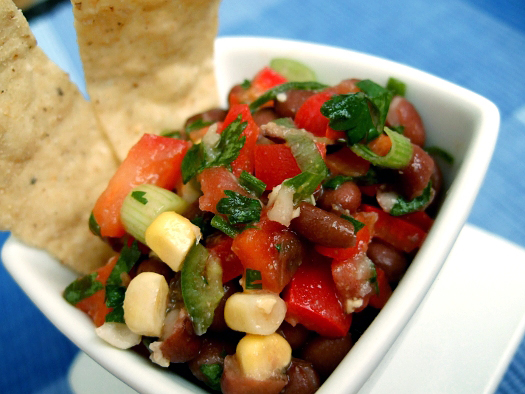 Hi Blog, how's it going? Long time no see!
Sorry for the lack of updates, everyone. Life's been busy. And unfortunately, life comes before blog.
But fortunately, I have a couple recipes stocked up, so even though I haven't been cooking much, I have something to post about! Three cheers for planning ahead for just these moments.
I'm not really sure why Texas caviar is called Texas caviar…You'd think Texans would love regular caviar. They like expensive things, right? Maybe the tiny little fish eggs go against their "Everything's bigger in Texas" motto. So they decided to substitute with slightly bigger beans and veggies? Yeah, I don't know either.
No matter why it's named what it's named, it's delicious. I think of it more as a salsa or chip dip than a salad, even though it's got a bit of a salad dressing going on. I think traditionally, black eyed peas are used, but I'm a fan of black beans, so I used them instead. Plus I upped the salsa quotient by adding lime juice, cilantro and serranos. If you've got access to good ripe summer tomatoes, use those. I didn't get a chance to go to the farmer's market before making this, and the grocery store had anemic tomatoes, so I ended up using a can of small diced tomatoes. It was all right, but I'd prefer fresh next time.
Texas Caviar
2 cans black beans or black eyed peas, drained and rinsed
Fresh corn from 1-2 ears
3 roma tomatoes or 1 large heirloom or 1 can small diced tomatoes
2-3 minced serranos
1 large red bell pepper, diced
1/2 small onion, diced
4 green onions, chopped
1 small bunch fresh cilantro, chopped
3 T red wine vinegar
juice of 1-2 limes
6 T olive oil
4 cloves garlic, minced
2 t ground cumin
salt and pepper to taste
1. Mix all the ingredients and let it hang out in the fridge for a couple hours before serving. Or, you know, don't. I didn't. It's good no matter what.