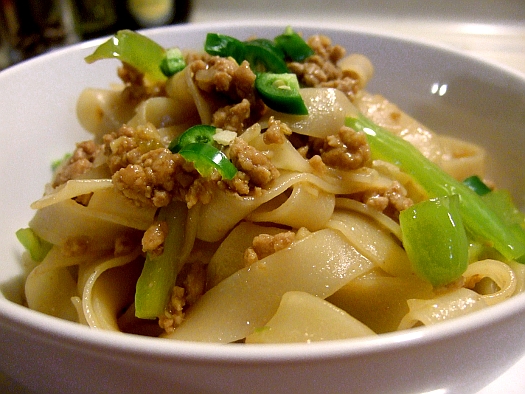 Ah, drunken noodles. No, the noodles themselves aren't drunk; There's no alcohol in the dish, contrary to what you may be thinking. Instead, the name refers to the state people are often in when they're eating these noodles. What drunk doesn't love garlicky, spicy, salty food?
And really, if you're not a fan of garlic or chile heat, then don't make this. Don't leave out the garlic because your mom doesn't like it, or only put in half a seeded jalapeno because you don't like heat. I'm sick of seeing comments on blogs and recipe sites where people explain how they changed numerous major components of a dish before they'd think about trying something. I don't believe that recipes are gospel, by any means, but you can't completely omit or change a dish's major flavor profile. And in this case, that means garlic and chiles (and it could be argued, fish sauce).
Rant aside, this is a super easy and fast meal, great for weeknights. Just make sure to take some breathmints to work the next day.
Drunken Noodles
1 14 oz package of wide rice noodles
6 cloves of garlic, finely chopped or minced through a press
1/4 c Thai chiles, chopped (alternately, use 5-7 serrano chiles if Thai are not available)
1 lb ground chicken or pork
1/3 c fish sauce
1/4 c soy sauce
1/4 c Golden Mountain sauce, or more soy sauce
2 T sugar
2-3 cubanelle or Anaheim peppers, sliced
Thai basil, to taste
1. Cook noodles in boiling water until cooked, but still firm. Time it so the noodles are done the same time as the sauce/meat.
2. Add a little vegetable oil to a wok, then add your ground meat. Stir fry over high heat until done, then add garlic, chiles and peppers. Stir fry until peppers are tender, about 2-3 minutes.
3. Add sauces and sugar, and bring to a simmer. Toss noodles into the wok, and combine with sauce. If needed, cook 1-2 minutes more in the sauce in order to cook noodles to your liking.
4. Serve with chopped Thai basil and extra chiles, if desired.