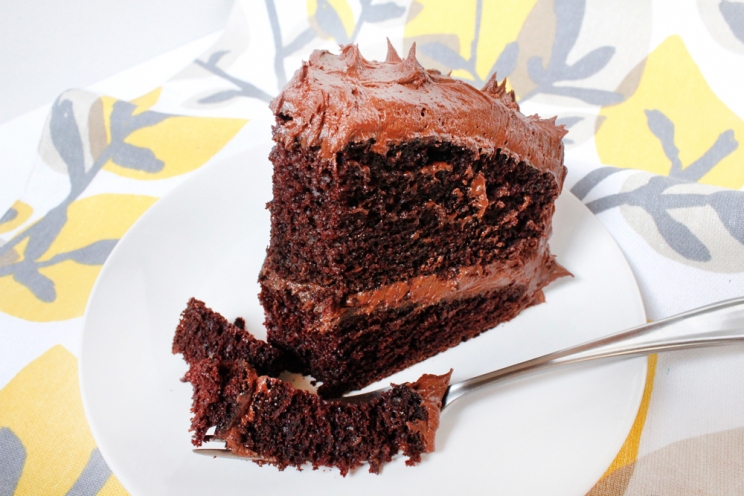 This is a great everyday cake. Because other people make cakes just because, right? It's also a great birthday cake, retirement cake, anniversary cake, Valentine's Day cake, Arbor Day cake, Brewers finally won today cake, you had a hard day at work cake… See, you can come up with a cake reason any day of the year. Plus, this cake is so easy to make. Mix dry ingredients, dump in wet, mix. That's it.
For me, it's only made from pantry ingredients that I normally have on hand anyway, so I really can bake it up whenever the mood strikes for chocolate. The cakes bake up light and springy with a high dome. Most people cut off the dome to even it out for easier layering, but to me that's just wasted cake. I just keep the dome and fill in where I need to with extra frosting glue. Plus I don't care how it looks when it's done; if it's domed on top, fine, just means more cake. If you're feeling fancy, cut that dome off.
This is one of those boiling water cakes, which means at the very end of the recipe, you add an amount of boiling water to the lovely batter to make it a thin watery mess. I'm not sure how it works, but it does work, and it bakes up like any other cake batter. I used to make a similar boiling water chocolate cake recipe when I was younger and it was delicious, so I guess that's what drew me toward this recipe. For once I don't know the science behind the boiling water in these cakes, I just trust in the cake.
If you have a favorite chocolate frosting recipe, use that. I just made a generic chocolate buttercream because I can't be bothered to make a fancy frosting. It's still fluffy and rich and thick enough for a layer cake and that's all I really need. This would also be great with a different flavored frosting, like salted caramel, or coconut, or frosted with ricotta cannoli filling. (That last one is ridiculously delicious.)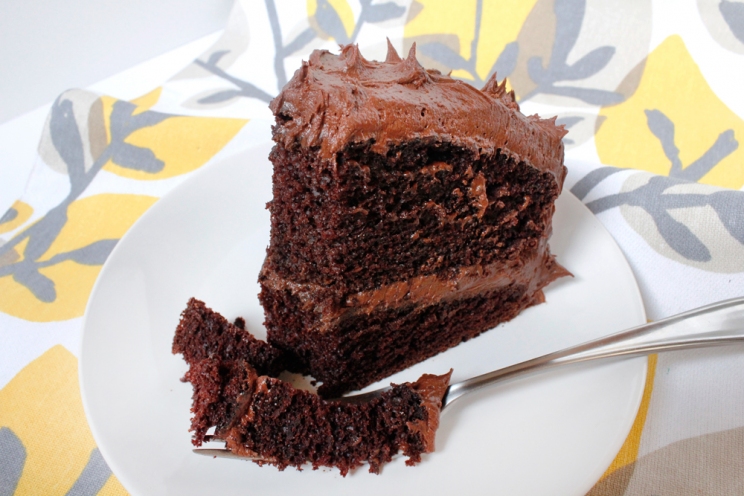 Double Chocolate Layer Cake
2015-04-17 14:33:28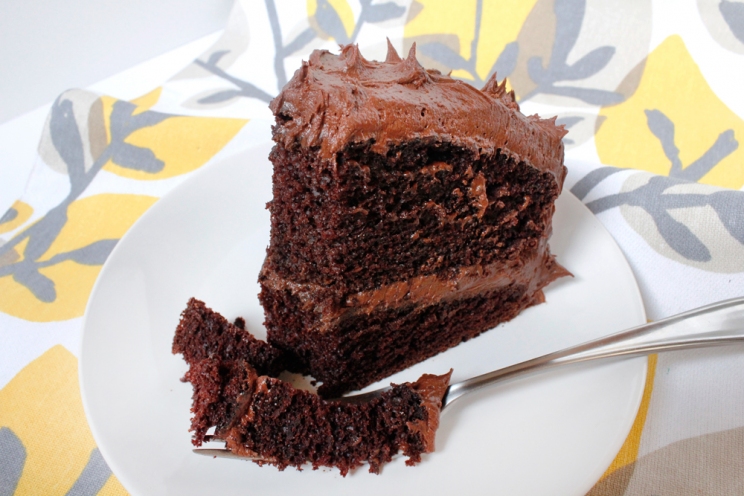 Quintessential chocolate cake with fluffy chocolate frosting. Great for any occasion.
Ingredients
2 c flour (all-purpose is fine)
2 c sugar
3/4 c unsweetened cocoa powder
2 t baking powder
1.5 t baking soda
1 t salt
1 c milk
1/2 c vegetable oil
2 eggs
2 t vanilla extract
1 c boiling water (I just nuked it in my Pyrex measuring cup)
For the frosting
1 c butter, softened (2 sticks)
1 1/4 c unsweetened cocoa powder
5-6 c powdered sugar
6-8 T milk
2 t vanilla
Instructions
Preheat oven to 350 degrees. Prepare two 9-inch cake pans with cooking spray, or line the bottom with parchment paper and then spray.
Add all dry ingredients (flour through salt) to the bowl of a stand mixer or large mixing bowl. Whisk to combine with the paddle attachment or spoon.
Add wet ingredients, except boiling water (milk through vanilla). Mix on medium speed until well combined. Scrap down the sides of the bowl as necessary.
Stop the mixer and add the boiling water. Incorporate on the lowest speed to avoid splashing, then beat on high speed for a minute until thoroughly combined.
Divide evenly between the two pans and bake 30-35 minutes or until a toothpick comes out clean. Rotate the pans halfway through cooking to avoid uneven baking. Cool for 10 minutes in the pan, then invert onto a wire rack and cool completely before frosting.
For frosting
Cream butter with the paddle attachment until soft and smooth.
Add the vanilla, cocoa powder, and 4 tablespoons of the milk. Cream together.
Add 4 cups of powdered sugar and combine on high speed. If it's too thick, add another tablespoon of milk. Taste, and add more sugar if it's not sweet enough. If it's too thin, add more sugar.
Continue to beat on high speed until light and fluffy. Adjust the sweetness and consistency to your tastes by adding more sugar or milk.
Adapted from Add a Pinch
Worth Her Salt https://worthhersalt.com/