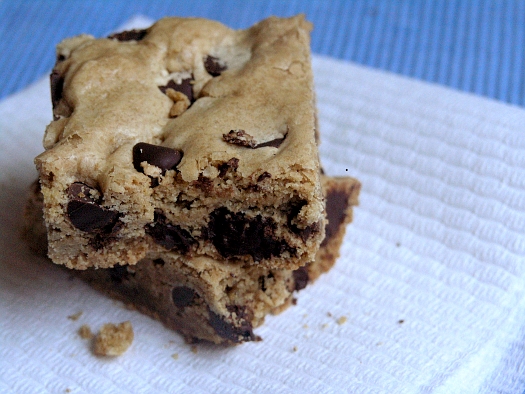 Next time you reach for a box of brownie or cookie mix…STOP! Make these instead. They're just as fast as a mix, I promise. And chances are you'll already have all the ingredients already in your pantry if you bake more than once a year. The recipe (from Cook's Illustrated, once again) makes a 9×13-inch pan that's just the right thickness, and has the perfect ratio of chocolate to dough.
This is also perfect if you're feeling lazy but really want chocolate chip cookies. Because who wants to spoon out dough and bake in batches? Not to mention if you're a fan of chewy, soft cookies, then this is also a recipe for you. OK, it's really a recipe for everyone, I guess. It's chewy, chocolatey, one-bowl, super fast and simple. What's not to love?
Chocolate Chip Cookie Bars
2 1/8 c AP flour
1/2 t salt
1/2 t baking powder
12 T butter
1 c brown sugar
1/2 c sugar
1 egg
1 egg yolk
2 t vanilla
2 c chocolate chips (about one 12 oz bag)
1. Preheat oven to 325. Melt butter in a large microwave safe mixing bowl.
2. Add sugars and mix until combined. Add eggs and vanilla and mix well.
3. Dump in your dry ingredients except chips, and fold together with a spatula or wooden spoon, just until combined. Don't overmix or the gluten will develop and make the cookies tough. Fold in the chocolate chips.
4. Spread in greased 9×13 pan (the dough will be a little greasy, but don't worry). Bake until just set in the middle, 27-30 minutes.