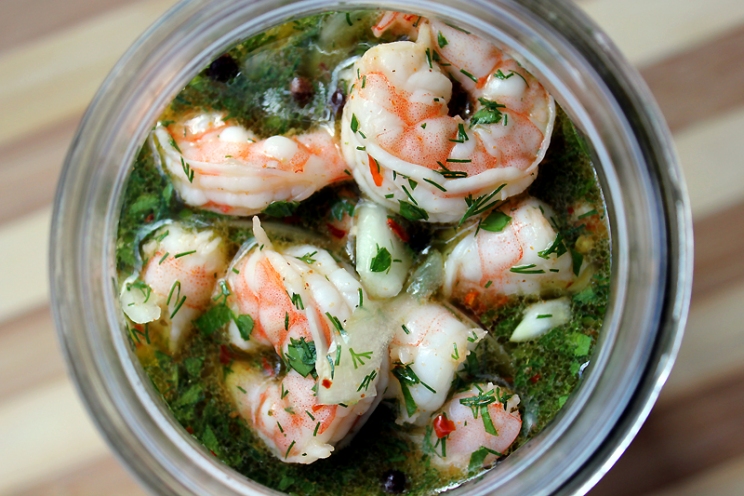 I do a lot of canning and pickling, and I love seafood. So color me surprised when I came across a recipe that combined both that I hadn't heard of before: pickled shrimp.
Think of it as a Southern-style ceviche. Shrimp are marinated–essentially pickled–in a tart, citrusy brine with garlic, onions, spices and a thick layer of olive oil. If you're one of those people who like to drink pickle brine like I am, you'll love sipping from this jar in front of the fridge late at night.
Onions are a key component of this dish. You can use either white or yellow, and I actually prefer yellow in this application. Slice them thinly from pole to pole; it doesn't break as many cell walls as slicing into rings, making them less pungent. They're a great accompaniment to the shrimp, and if sliced thinly enough will stick solidly to each shrimp as they're plucked out of the jar or bowl.
This dish is also infinitely malleable. There's just about as many variations on this dish as there are cooks that make it, so feel free to customize as you like. Some recipes use vinegar and citrus juice, some use few or no fresh herbs, some use tumeric, changing the color of the shrimp a bright orange.
No matter how you season this, it's easiest to concoct it in a quart mason jar, or washed pickle jar. Serve it just as you would any other cold shrimp appetizer, maybe with crackers or toasted bread to sop up some juice. These are also great on salads, or as a tart addition to creamy potato salad. I tend to prefer mine straight from the jar.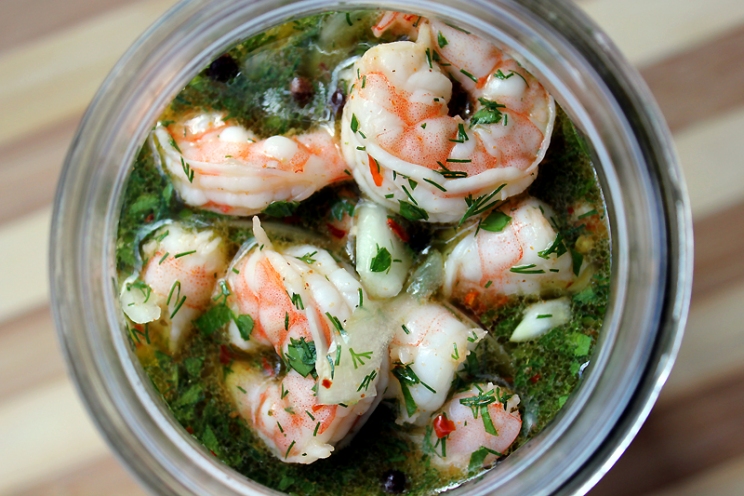 Pickled Shrimp
2015-07-27 23:59:38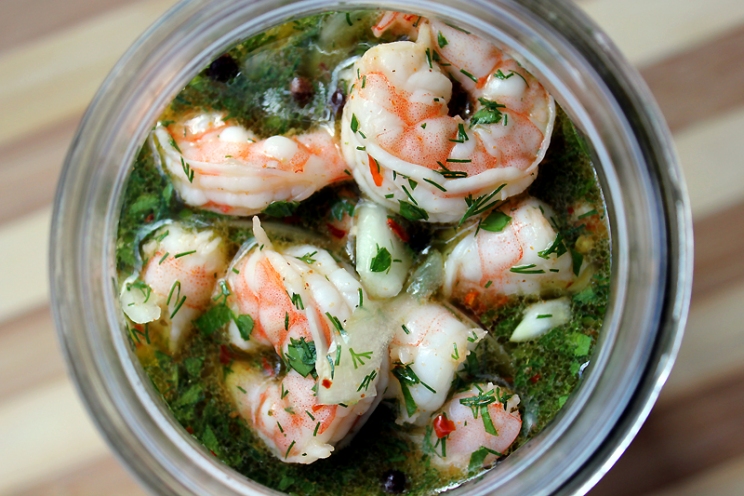 Tart, citrusy Southern-style pickled shrimp appetizer.
Ingredients
1 lb shrimp, medium to large, peeled and deveined
heavy dash of Old Bay for seasoning poaching liquid
For the brine
3/4 c fresh lemon juice
1/2 c fresh lime juice
1/2 c fruity olive oil
3 cloves garlic, peeled and crushed slightly
1 medium onion, sliced thinly pole to pole
8 bay leaves
1 t whole mustard seeds
1/2 t black peppercorns
1 T kosher salt
1/2 t celery seed
1/2 t Old Bay
pinch whole allspice
pinch red pepper flakes
3 T chopped fresh parsley
3 T chopped fresh dill
Instructions
To a pot of water, add a few dashes of Old Bay and bring to a boil. Add the peeled shrimp (feel free to leave the tail section intact if you like) and turn off the burner. Poach the shrimp until opaque in the center and just cooked through, 3-5 minutes, depending on the size of the shrimp. Drain and let cool while you prepare the brine.
In a quart mason jar or clean pickle jar, combine all of the ingredients for the brine, screw the lid on and shake to combine.
Add the shrimp and refrigerate for at least 2 days before serving for the flavors to combine. It can be kept in the fridge up to 10 days, if it doesn't get eaten first.
Worth Her Salt https://worthhersalt.com/