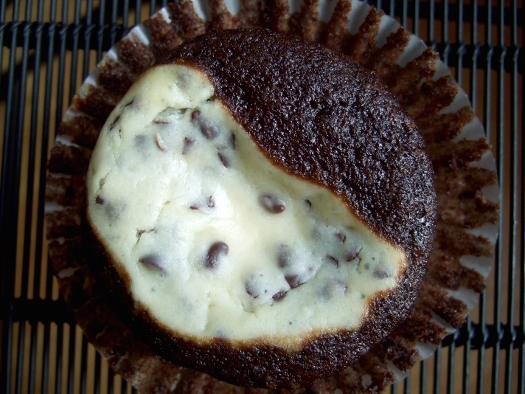 This recipe brings together two great things: cupcakes and cheesecake. And it's got lots of other things going for it, too. The cheesecakey part adds enough moisture and creaminess that you don't need frosting, eliminating the extra frosting steps. Plus I didn't even use the Kitchen Aid for this one, just a quick blend with my hand mixer for the cream cheese and a good old fashioned wooden spoon for the batter. Couldn't be easier. Found the recipe on allrecipes.com.
Black Bottom Cupcakes
1 8 oz package cream cheese, softened
1 egg
1/3 c sugar
1/8 t salt
1 c miniature semisweet chocolate chips
1 1/2 c all-purpose flour
1 c sugar
1/4 c cocoa powder
1 t baking soda
1/2 t salt
1 c water
1/3 c vegetable oil
1 T cider vinegar
1 t vanilla extract
1. Preheat oven to 350 degrees F. Line muffin tins with paper cups or lightly spray with non-stick cooking spray.
2. In a medium bowl, beat the cream cheese, egg, 1/3 cup sugar and 1/8 teaspoon salt until light and fluffy. Stir in the chocolate chips and set aside.
3. In a large bowl, mix together the flour, 1 cup sugar, cocoa, baking soda and 1/2 teaspoon salt. Make a well in the center and add the water, oil, vinegar and vanilla. Stir together until well blended. Fill muffin tins 1/3 full with the batter and top with a dollop of the cream cheese mixture.
4. Bake in preheated oven for 25 to 30 minutes.