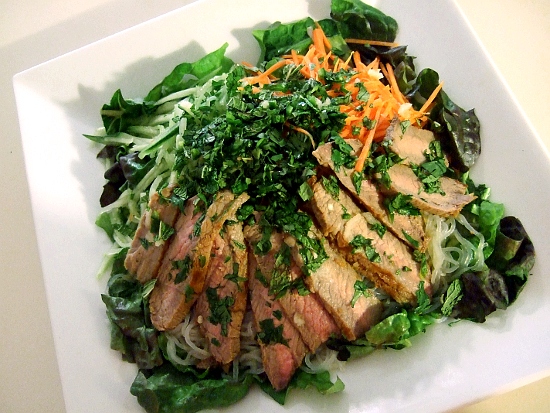 Welcome to JS readers! Feel free to browse my previous posts and recipes. For now, here's the recipe that was in the paper, in case you're looking for an electronic copy. Bun is probably one of my favorite summertime salads. If you don't like beef, feel free to use shrimp, pork, tofu or chicken as the protein in this salad.
Vietnamese Bun with Seared Beef
Salad (makes 4 servings):
1 recipe seared beef
1 recipe nuoc cham
8 oz rice vermicelli or bean thread noodles
1 small head red leaf or Boston lettuce, shredded
3 carrots, julienned
1/2 large English cucumber, julienned
4 T chopped basil
4 T chopped cilantro
2 T chopped mint
roasted peanuts, crushed, optional
Cook noodles according to package directions and chill in ice water under ready to use. Arrange a bed of lettuce on each plate. Top with chilled, drained noodles, carrots, cucumber, sliced beef, herbs and peanuts, if using. Drizzle nuoc cham over salad and serve extra along side.
Seared beef
1 lb sirloin or flank steak
1 large sprig basil (6-8 leaves)
1 large sprig mint (6-8 leaves)
1 clove garlic, crushed
3 T fish sauce*
3 T canola oil
juice of 1/2 lime
Tear basil and mint and combine with other ingredients. Add beef and marinade for at least 1 hour but no more than 3. Pat meat dry, then pan sear over medium-high heat or grill until desired doneness.
Nuoc Cham
1/2 c hot water
1/4 c fish sauce*
3 T sugar
2-3 T lime juice
1 clove garlic, minced
3 Thai bird chiles or one large serrano, seeded and minced
Combine hot water and sugar to dissolve. Add other ingredients and adjust seasoning to your liking by adding more acid (lime), salt (fish sauce) or sugar.
* Preferably 3 Crabs brand. Look for the pink label with 3 crabs on it.