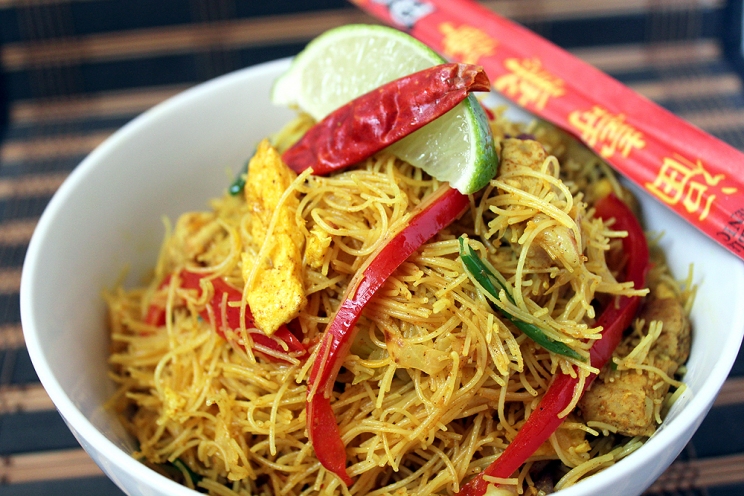 I had never been a big fan of Singapore noodles. Every version of this Chinese-American was bland, gritty and boring. Then, I tried the version at RuYi, a surprisingly good restaurant in the Potawatomi casino, and found it better than I had remembered. And more recently, I tried the version at Kim's Thai to Go, my favorite Thai place located in Pacific Produce on the south side of Milwaukee, and that version was a revelation. It was bright with curry and heavily seasoned; a cross between Chinese noodle stir fry and Indian curry.
So when I had a couple pork chops to use up before they expired, I decided to give Singapore noodles a shot myself. I cobbled together a few recipes around the internet, and followed Cook's Illustrated's general method. The verdict: a definite make again recipe.
I don't have a proper wok, mostly because I don't have a proper gas stove to use it with, so I followed CI's usual method of cooking stir fries in stages. Unless you have a massively powerful stove and wok, this is probably your best bet as well.
The curry powder you use is important, since it's the predominant flavoring. I used a Penzey's blend called Maharajah curry because it was something I had around, though that blend contains superfluous saffron. Their generic sweet curry powder would be fine, though I would not recommend using a generic, low quality supermarket curry blend. That's how your noodles could end up tasting like chalk. You can use specific blends of curry like garam masala, but you'll get a slightly different flavor than what you might be used to from your Chinese takeout place. If you do that, add some extra tumeric with your spices.
Feel free to use whatever veggies you like in this, or whatever you need to use from your fridge. Next time, I'll probably increase the amount of veggies and use snow peas or bean sprouts. Don't skip the lime juice for sprinkling, the acid helps punch up the flavor.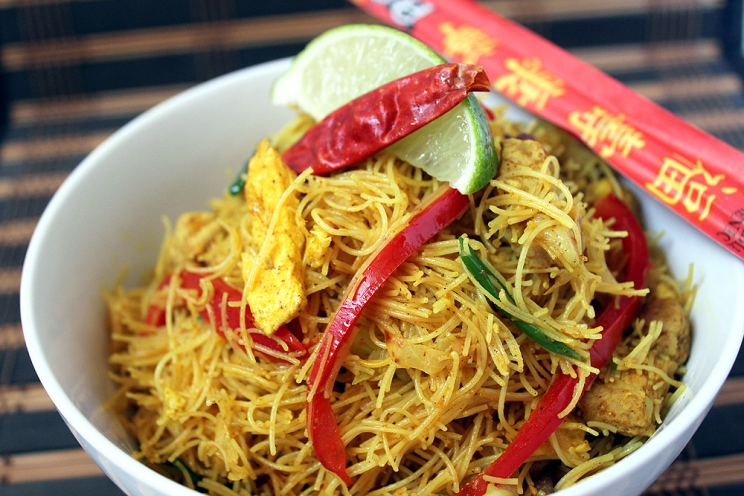 Singapore Noodles with Pork
2015-03-23 21:55:46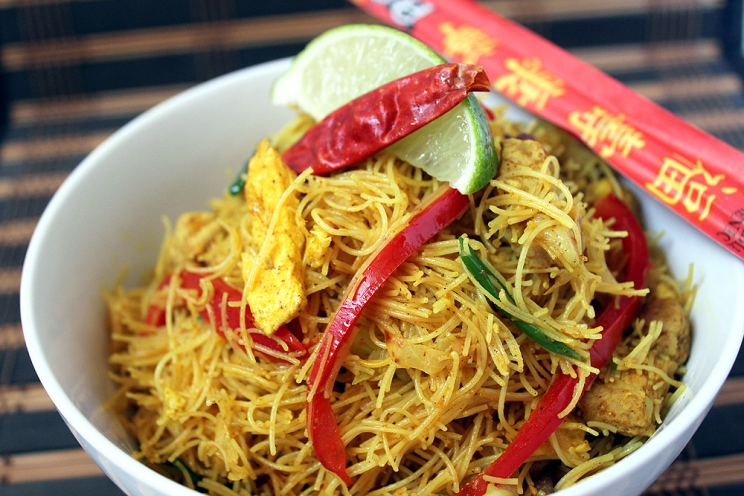 Serves 4
Rice vermicelli with curry, pork, and vegetables.
Ingredients
16 oz rice vermicelli
2 pork chops, about 12 oz total, cut into thin strips
6 T vegetable oil
4-6 dried hot peppers, like tien tsin or pequin
cayenne, optional, to taste
3 T curry powder
3 T soy sauce
4 cloves garlic, grated
2 T ginger paste, grated on a microplane
1 t sugar
1 red bell pepper, thinly sliced
6 scallions, cut into 1-inch pieces
2 cups sliced cabbage, preferably napa
4 eggs, scrambled
1/2 c chicken broth
lime wedges
Salt to taste
Instructions
Soften your rice vermicelli according to package directions, generally in hot water for 3-5 minutes. They will soften but still be very chewy. Don't over soak or they will be mushy when you cook them. Drain them and transfer to a large bowl.
Heat a little oil in a nonstick skillet over medium heat and add your eggs. Scramble for a minute, then allow to form a thin omelet. Remove from pan once firm, roll up, and slice thinly.
Heat a large skillet or wok over medium-high heat and add 6 tablespoons of neutral oil. Add the dried peppers, cayenne if using, and curry powder. Bloom in the oil until fragrant, just 30 seconds to a minute. Pour onto the drained noodles and toss with tongs to coat.
Return the same skillet or wok to the heat and add the pork, stir frying until cooked through. Remove from the pan and set aside. Add the bell pepper to the same skillet and stir fry until crisp tender, then remove. Repeat that with the cabbage until wilted, and any other veggies you have.
Lastly, add a bit of oil to the empty pan and add the garlic and ginger, frying until fragrant, 30 seconds. Add the green onions and fry until slightly softened, another minute. Add the chicken broth, soy and sugar to the pan and bring to a simmer.
Add the curry-coated noodles, pork and cooked vegetables to the pan. Stir fry until the broth is absorbed, the noodles are tender and everything is hot. Season with salt or more soy sauce. Serve topped with omelet slices and with lime for squeezing.
Adapted from Cook's Illustrated
Adapted from Cook's Illustrated
Worth Her Salt https://worthhersalt.com/