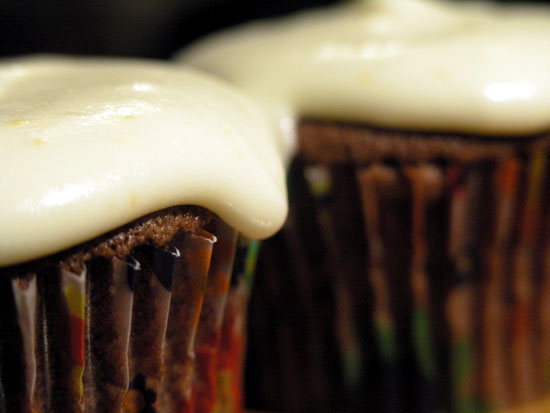 These are tasty. What else can I say? Adapted from Cupcakes! by Elinor Klivans.
Chocolate Sour Cream Cupcakes with Orange Cream Cheese Frosting
3 ounces unsweetened chocolate
1 c unbleached AP flour
1/2 t baking powder
1/2 t baking soda
1/4 t salt
1/2 c unsalted butter, room temperature
1 1/4 c sugar
2 large eggs
1 t vanilla extract
1/2 c sour cream
1/2 c water
Frosting:
1/2 c unsalted butter, room temperature
6 ounces cream cheese, room temperature
1 t vanilla extract
3 c powdered sugar
2 t orange zest
1. Preheat oven to 350 F. Melt chocolate in the microwave (carfully!) or in a double boiler.
2. Beat the sugar and butter until creamy. Add the melted chocolate and beat to combine.
3. Add the eggs, one at a time, mixing after each addition. Add the vanilla and mix until batter lightens in color, about 1 minute. Add the sour cream and mix to combine.
4. Add the baking powder, soda, salt and half the flour. Mix until blended.
5. Add the water, mix until blended. Add the remaining flour, and mix to just combine, don't overmix.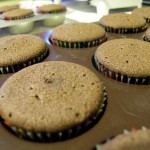 6. Fill your cupcake liners 2/3 full, then bake for 13-17 minutes.
7. For frosting, combine everything besides sugar in a bowl and beat to combine. Add sugar and beat until fluffy and light. Cool frosting until the cupcakes are cool too, or else you'll have frosting oozing all over the place. Or you know, don't wait until the cupcakes are cool. Oozing frosting is OK sometimes.