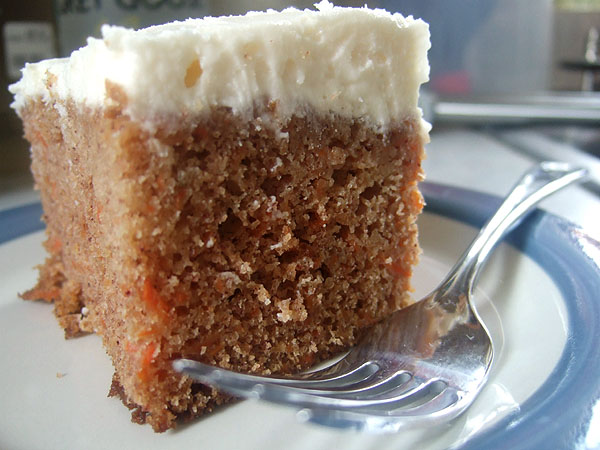 This is my favorite carrot cake. No nuts (yuck!), no superfluous ingredients like pineapple, and lots of cream cheese frosting. It's also "light", or as light as a cake with frosting can be. Thanks, Cooking Light magazine.
Carrot Cake with Cream Cheese Frosting
Cake:
Cooking spray
9 tablespoons butter, softened
2/3 cup packed brown sugar
1/2 cup granulated sugar
2 large eggs
2 large egg whites
2 teaspoons vanilla extract
2 cups all-purpose flour
2 teaspoons baking soda
1 teaspoon ground cinnamon (I usually double this)
1/4 teaspoon salt
3/4 cup low-fat buttermilk
2 cups finely shredded carrot
Frosting:
1 cup (8 ounces) block-style fat-free cream cheese
1/4 cup butter, softened
2 teaspoons vanilla extract
1/8 teaspoon salt
2 3/4 cups powdered sugar, divided (Taste before you add it all if you like less sweet frosting like me)
1. Preheat oven to 350°.
2. To prepare cake, coat a 13 x 9-inch baking pan with cooking spray; line bottom of pan with wax paper. Coat wax paper with cooking spray; set aside.
3. Place 9 tablespoons butter, brown sugar, and granulated sugar in a large bowl; beat with a mixer at medium speed 5 minutes or until well blended. Add eggs and egg whites, 1 at a time, beating well after each addition until pale and fluffy. Beat in 2 teaspoons of vanilla extract.
4. Lightly spoon flour into dry measuring cups; level with a knife. Combine flour, baking soda, cinnamon, and 1/4 teaspoon salt, stirring with a whisk. Add flour mixture and buttermilk alternately to sugar mixture, beginning and ending with flour mixture; mix after each addition. Stir in carrot. Spoon batter into prepared pan. Sharply tap pan once on counter to remove air bubbles. Bake at 350° for 30 minutes or until a wooden pick inserted in center comes out clean. Cool in pan 10 minutes on a wire rack; remove from pan. Carefully peel off wax paper; cool completely on wire rack.
5. To prepare frosting, place the cream cheese, 1/4 cup butter, 2 teaspoons of vanilla, and 1/8 teaspoon salt in a large bowl; beat with a mixer at medium speed until smooth. Gradually add 2 cups powdered sugar, beating at low speed until smooth (do not overbeat). Stir in the remaining 3/4 cup powdered sugar. Cover and chill 30 minutes. Spread frosting over top of cake. Garnish with sprinkles. Store cake loosely covered in refrigerator.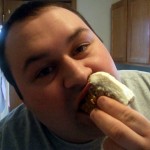 This cake keeps in the fridge for at least 3 or 4 days
without drying out. I've also made it with an orange
cream cheese frosting using the same recipe. Just add
in a large orange-worth of zest, along with a bit of the juice.
Hope you enjoy this cake as much as we do!