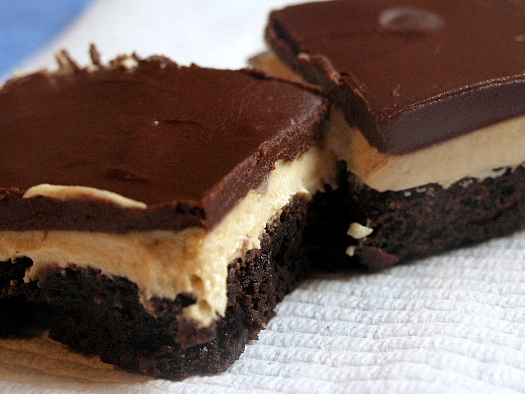 I probably don't need to say it, but holy decadent, batman!
I had these beautiful brownies bookmarked over at Loves to Eat for the longest time, just waiting for an excuse to make them. I figured Labor Day, and specifically my friend Lynn's party, was good enough for me. As an added bonus, other people would be at this party, ensuring I wouldn't eat the entire pan myself. Thanks, other people.
These remind me of the chocolate peanut butter cake I've made, but with much less effort and time expenditure. But the payoff is still awesome. The brownie base is super fudgey and rich, so I cut these into 24 squares and one is plenty (at least for a couple hours!). The peanut butter filling is really just frosting, which works for me. And the topping originally didn't call for any cream, but I wanted something that wouldn't set up as a hard layer, and adding a bit of cream to make a ganache worked out perfectly. The peanut butter layer is soft and silky and the ganache is smooth but still a bit soft, even from the fridge.
Make these. You know you want to.
Peanut Butter Brownies
Brownie layer
1 c butter
2 c sugar
3 eggs
3 t vanilla
2/3 c cocoa powder (Dutch process is fine)
1 c AP flour
1/2 t salt
1/2 t baking powder
PB filling
1/2 c butter, softened
1/2 c creamy peanut butter
2 c powdered sugar
~2 t milk
Ganache topping
1/4 c peanut butter
2 c semisweet chocolate chips
1/4 c butter
1/4 c cream
1. Preheat oven to 350. Line a 9×13 pan with aluminum foil to make a sling, or use parchment, and coat with cooking spray. I only used a heavy dose of cooking spray, and that still wasn't enough for these fudgey brownies, so I recommend lining the pan for once.
2. For the brownies, melt the butter in a large saucepot. Remove from heat, add the sugar and stir to combine. Beat in eggs and vanilla until homogeneous. Add cocoa, baking powder and salt and combine. Add flour last and stir until combined. Spread into pan and bake 25-30 minutes. Cool completely before frosting.
3. For peanut butter filling/frosting, combine the ingredients and beat until smooth. Add more milk if necessary to make it spreadable. Try not to eat all the frosting before your brownies are cool.
4. For the ganache, combine the ingredients in a double boiler or in a microwave safe bowl. Melt together and combine.
5. Once the brownies are cool, spread the frosting on top. Place them in the fridge for at least 30 minutes until the frosting sets up a bit. Pour the ganache over the top and spread gently. Return to the fridge until set. I like to keep them in the fridge and serve cold because the brownies are so fudgey.