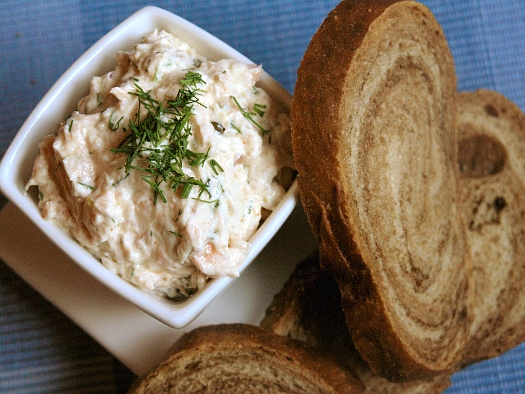 Why is it that the salmon that's on sale never tastes very salmony?? If only Sendik's had had their Alaskan coho on sale again, instead of Pick'n'Save's farmed Atlantic. Oh well, sorry Trade Press, it's more like Dill and Lemon Spread with Salmon.
Made with great salmon, however, this is a delicious recipe. As with a lot of my cooking, I don't really use a recipe. There's ingredients that I always use, then I just go from there. Here's the recipe as best as I can remember from this batch.
Salmon Spread
1 lb (2 blocks) cream cheese (low-fat is fine)
1 lb fresh salmon, broiled until cooked, then flaked
4 T good quality butter
zest and juice of one lemon
2 T horseradish (not sauce)
2 T capers, drained
1/4 c red onion, minced
3 T chopped fresh dill
1-2 t fish sauce or worchestershire
S+P to taste
1. Leave the cream cheese and butter out to come to room temperature.
2. Cream all ingredients except salmon in a mixing bowl. Add salmon and mix to combine. Adjust any of the ingredients to taste. Chill and serve with crackers, bagels, rye bread or cucumber slices.