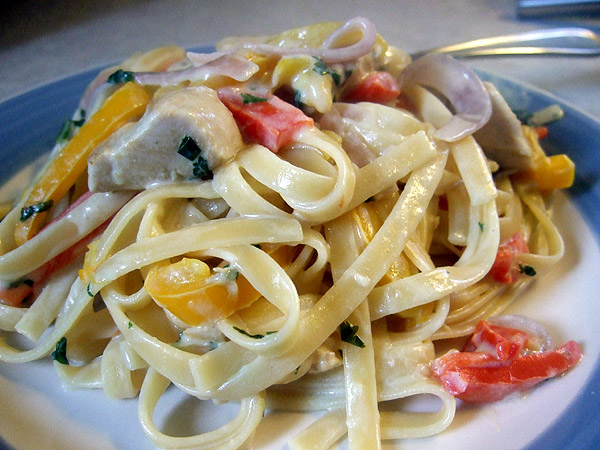 Yes, some of you may recognize this dish. It is a rip off of a California Pizza Kitchen dish. And it's pretty good. Though, Nick didn't like it much, because he's got an issue with onion and bell pepper textures, and thought the flavors were too subtle. He likes flavors that hit you over the head. But don't listen to him, it's good.
Chicken Tequila Fettuccine
1 lb fettuccine
1/2 c chopped cilantro
2 cloves garlic, minced
1 large jalapeno, minced
1 c chicken stock
1/4 c gold tequila
juice of 1/2 lime
1 lb chicken breast
1/2 red onion, thinly sliced
2 assorted bell peppers, thinly sliced
1 c heavy cream
1. Cook pasta in salted water until al dente. Time is so it's finished around the same time as the sauce.
2. Clean and chop chicken. Saute until browned and cooked through in a large skillet, about 6 minutes. Remove from pan.
3. Add  jalapeno and garlic to same pan, cook 2 minutes. Add bell peppers and red onion, saute for 2 minutes until veggies wilt slightly. Add tequila and deglaze the pan, scraping up any browned bits (fond). Add chicken stock, reserved chicken, and cream, and simmer until veggies are tender. Season with salt and pepper.
4. Toss sauce with pasta, cilantro and lime juice before serving.