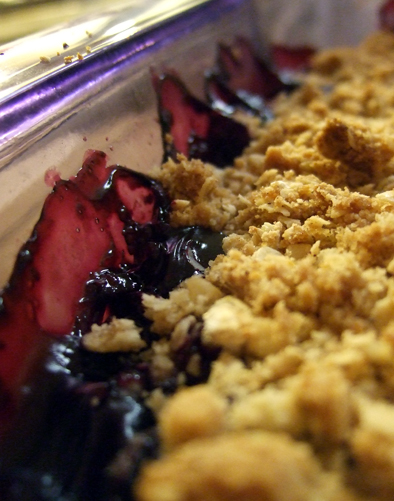 Blueberries were on sale at Sendik's, 4 pints for $5. Not too shabby. I bought them before I knew what I was going to do with them…An impulse buy I guess. In the end I decided to make crisp, as oppossed to cobbler, buckle, crumble, grunt or whatever other regional variation of fruit+carbs. I almost always have everything already on hand for crisp, I love oats, and it's super easy. Crisp is a great way to use up those impulse berries you buy this summer.
This is a general recipe as I never really measure crisp ingredients. For the fruit, if you like it thicker, add more cornstarch. If your berries are sour and not ripe, add a bit more sugar. For the topping, you're looking to add enough butter that it turns into wet, coarse sand. If you squeeze it together in your hand, it will hold it's shape, then crumble into large chunks.
Blueberry Crisp
4 pints blueberries, washed and picked over
1/2 to 3/4 c sugar, to taste
3-4 T cornstarch
1 T lemon juice
2/3 c flour
2/3 c brown sugar
2 t cinnamon
1/2 t salt
1 1/2 c rolled oats
1 stick butter, chilled and diced
1. Preheat oven to 350. Combine fruit, sugar, cornstarch and lemon juice in a bowl. Pour into a 9×13 pan.
2. Combine flour, brown sugar, cinnamon, oats and salt in a bowl. Add chilled butter chunks and work with fingers, fork or pastry cutter until butter is evenly distributed and mixture holds its shape when squeezed. Squeeze mixture, then crumble coarse chunks over the fruit. Bake until browned and bubbly, 30-40 mintues.