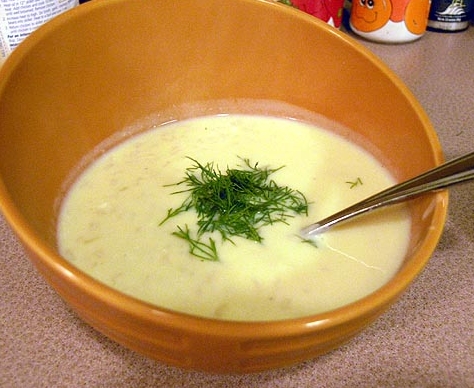 Avgolemono is a Greek lemon and egg soup, usually with a base of chicken stock.
It's a perfect soup for a number of reasons:
Creamy but with no dairy products – lactose intolerant friendly
Can be made with veggie stock – vegetarian friendly
Super fast and only 5 ingredients – everyone friendly
The only unfriendly bit about this is the amount of eggs if you're watching your cholesterol. I imagine you could cut down on the amount of egg yolks in the recipe if you're concerned about it. It really only works out to about 1-2 eggs per serving, though.
Avgolemono
~12 c chicken broth or stock
7 lemons
10 eggs
1 1/2 cups rice
fresh dill for garnish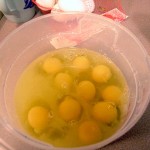 1. Bring your broth or stock to a simmer and add your rice. Cook until the rice is almost tender, about 5 minutes before it's finished.
2. Crack your eggs into a large bowl. Juice the lemons into the bowl (through a sieve, watch out for pits!). Whisk that together well, and let it sit and come to room temperature before you proceed.
3. When the rice is almost tender and the eggs are room temperature, temper the eggs by adding a ladle of hot broth while whisking constantly. Keep adding ladles of broth one by one while whisking until you have double the liquid in the bowl than you started with. The egg mixture should now be hot.
4. Add the tempered eggs back into the pot of broth and simmer gently until the rice is fully cooked and the soup has thickened. Top with snipped dill to serve.