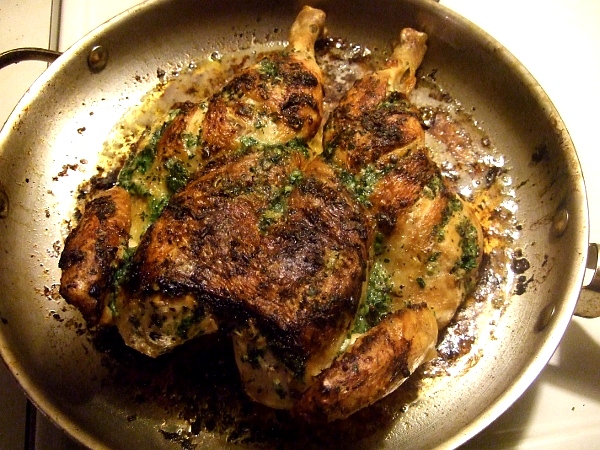 I don't roast chickens much, but this was a pretty good one that I might do again when the roast chicken bug bites. It's adapted from a Cook's Illustrated recipe.
Herbed Roast Chicken
1 whole chicken, about 5 pounds, cleaned and trimmed of excess fat
1 T fresh thyme leaves, minced
6 scallions, green parts only, minced
2 cloves garlic, minced
6 T butter, softened
zest of 1 lemon
1/4 t salt
For the pan sauce:
1 c chicken broth
2 t flour
juice from half of a lemon
1.Preheat oven to 450 F.  Butterfly the chicken by cutting out the backbone, then flattening the breastbone. Make 3-4 shallow cuts on legs and thighs.
2. Mix butter, scallions, thyme, garlic, zest and salt in a small bowl. Slip fingers between muscle and skin of the chicken, forming a pocket. Smoosh half of butter mixture under the skin and spread around. Rub more on the skin of the chicken, reserving 1 T of the mixture.
3. Heat vegetable in ovensafe 12-inch skillet over medium-high heat until just smoking. Place chicken skin-side down in skillet and reduce heat to medium. Cook until lightly browned, 8 to 10 minutes. Transfer skillet to oven and roast chicken 25 minutes.
4. Using tongs, flip chicken so skin-side is facing up. Using spoon or spatula, evenly coat chicken skin with remaining softened herb butter and return to oven. Roast chicken until skin is golden brown and chicken breast registers 160 degrees and 175 degrees in thickest part of thigh, 15 to 20 minutes. Transfer chicken to carving board and let rest, uncovered, 20 minutes.
5. To make the sauce, return the pan to medium heat. Whisk in the flour. Add the chicken broth and simmer to thicken, about 5 minutes, while scraping the brown bits on the bottom of the pan. Remove from heat and stir in lemon juice and reserved herb butter. Serve over chicken.