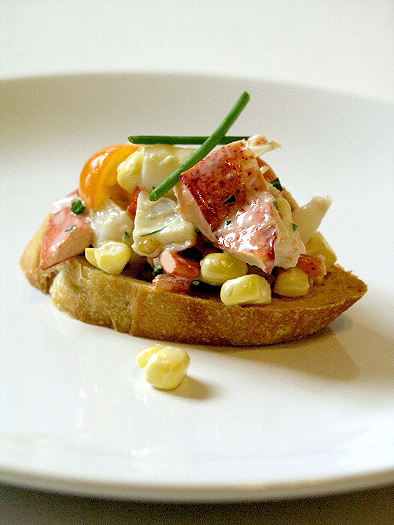 I've never cooked whole, live lobsters before. So when the local high-end grocery store, Sendik's, had a one-day lobster sale, I figured it'd be a great time to try! $10 live ~1 lb lobsters. Awesome. I even avoided the first-come-first-serve fiasco by reserving them the day before.
My friend Lynn was having a cookout the next day, so I decided to use the lobsters in a dish to bring. It being late summer, there was plenty of gorgeous produce available at the farmer's market, so I decided to make a lobster salad with sweet corn, tarragon and orange cherry tomatoes. And as another first, I made the mayonnaise from scratch. Because if you're going to spend $20 on lobsters for a salad, you better make sure you use awesome ingredients with it!
The mayonnaise is an Alton Brown recipe, and was pretty easy. I initially used my immersion blender, and everything was going swimmingly until the emulsion decided to break about halfway through adding the oil. I have no idea what happened, but I switched to the old fashioned bowl and whisk for the next attempt. Of course, that worked perfectly, even if I had to ask Nick to hold the bowl steady for me while I whisked and added oil.
I was also hoping to have lobster fights on my kitchen floor, but alas, one of the lobsters was almost dead by how lethargic he was. So they simply went in the pot as soon as I brought them home. (I admit I was tempted to name one Pinchy and make him my pet and grow him until I accidentally cooked him in a too-hot bath, but that's another story).
I served the salad on top of some crusty baguette slices that I drizzled with olive oil and toasted in the oven. I'm sure it'd be good on salad greens, as a lobster roll (though a complicated, sacrilegious one), in pita bread, or eaten with a fork straight from the bowl as I did with the leftovers!
Late Summer Lobster Salad
2 1lb live lobsters, cooked your preferred method (I chose to steam instead of boil)
2 ears of fresh sweet corn
1 large handful of orange cherry tomatoes, straight from the garden
1/4 c minced red bell pepper
2 TB fresh minced tarragon
1 TB minced chives
2-3 TB homemade mayonnaise, or to taste (see recipe below)
S+P to taste
1. Remove the meat from the cooked lobsters. I even lined up the little lobster legs and used a rolling
pin to smoosh the meat out of them. I don't waste lobster! Roughly chop the meat and try not to eat it all while doing so.
2. Remove the corn from the cob. Quarter or halve the cherry tomatoes, depending on size.
3. Combine the lobster, veggies, herbs and mayonnaise and mix gently to combine. Season with salt and pepper. Simple and delicious!
AB's Mayonnaise
1 egg yolk
1/2 t salt
1/2 t dry mustard
2 pinches sugar
2 t fresh lemon juice
1 TB white wine vinegar
1 c oil, safflower, corn, or canola
1. Whisk together the egg yolk and the dry ingredients. Whisk in half the lemon juice and vinegar.
2. Whisking quickly, add oil a few drops at a time until an emulsion forms and it becomes thickened and lighter. Then keep whisking while you add half of the oil in a thin steady stream. Add the rest of the lemon juice a vinegar, then continue adding the oil slowly until it is all incorporated.