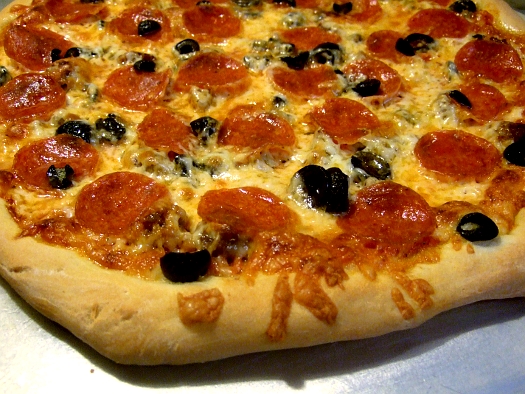 Last weekend I decided to take on a new project, inspired by this pizza making forum. I've visited that forum randomly for the last year or so, but never attempted making any because I lacked some necessary tools, especially a baking stone. But, lovely Nick remedied that this year for my birthday and the stone now has permanent residence in my oven. (After making my first pizzas, however, I realize I now need a pizza peel and a kitchen scale…)
But back to that forum. Those people are crazy. Some of them must have OCD. Ten thousand posts on a pizza making forum, most at least 300 words long? Admitting you have 19 pages of notes on how to modify one crust recipe? Obsessively calling and emailing Giordano's in order to reverse engineer their crust? Calculating crust thickness using pi and algebra only an engineer would understand? Sometimes I read this stuff and think, "What the fuck are these people talking about? Do they even have lives or jobs?" And other times, I think, "These people are frickin' geniuses!"
Because damn, they can make some good lookin' pizzas. So, they must be doing something right. Unfortunately, I did most everything on my first pizzas that they'd consider "wrong." I made a quick-rise dough recipe instead of letting it ferment 3 days, I used volume measurements instead of weight (told you I need that kitchen scale), and I used a supermarket block of mozzarella instead of the wonderful buffalo mozz. But you know what? My pizzas still turned out damn good. And I see this as just the start of an obsession with making great pizzas. Maybe I'll even start using baker's percentages and calculating hydration ratios too!
The crust and the sauce are the most important parts of the pizza if you ask me. Either one of those things sucks, and so does your pizza. Cheese and other toppings are basically in the eye of the beholder, so to speak. We did basic pepperoni, Italian sausage and black olive pizzas, with a local cheesemaker's block part-skim mozz. I plan to make buffalo and BBQ chicken pizzas soon, because I'm a sucker for those things. A pizza stone is ideal, but if you don't want to spend the money, get yourself a pizza screen. Since I don't have a peel yet, I started the pizzas on the screen, then transferred them to the stone about 7 minutes into baking. You can cook it on the screen for the entire cooking time if that's all you have. It's still much better than a sheet pan or those round perforated pizza pans.
For the sauce, most people on the pizza making forum swear by not cooking the sauce before you cook the pizza. I was a little wary, but it turned out really well. I used a can of imported San Marzano tomatoes, which I had to buy a new brand of because the store was out of the brand I normally buy. I wasn't too happy with the quality, but it still turned out well. I can't wait til I have great tomatoes again.
Eventually I'll start using baker's percentages, hopefully, but for now here's an easy beginner's volume-based recipe. I didn't measure ingredients for the sauce, but use your best judgement; that's why you have judgement. It'll turn out great.
Quick-Rise NY-style Pizza
Crust for one 12-inch pizza: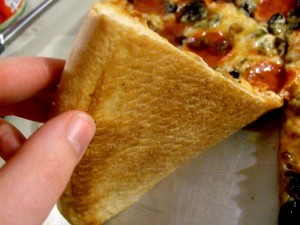 1 3/4 c AP flour (high-gluten flour is best, but AP will work in a pinch)
~ 1/2 c water at 90 degrees F
1/2 t salt
1/2 t olive oil
1/2 t active dry yeast, plus a pinch
1. Dissolve salt in water in bowl of mixer fitted with the dough hook. Mix yeast into flour in a bowl.
2. Turn mixer on low, and add flour slowly. Eventually, it will come together around the hook and away from the sides of the bowl. If it doesn't come together in one mass after a couple minutes, it's probably too dry. That is the problem with volume measurements. Add more water, a scant teaspoon at a time, until it comes together into a ball. It shouldn't be sticky, but also not dry to the touch. It just takes intuition. When you think it's about right, add your olive oil and continue kneading it (the mixer is doing the kneading now) until combined.
3. Coat your hands in olive oil. Remove from the bowl, and knead it a few times on the counter. The olive oil will keep it from sticking to you or the counter, though it shouldn't really be sticky anyway. If it's sticky, it's too wet and you should have added more flour! Bring the dough together into a smooth ball, making sure it's coated in a thin layer of olive oil before placing it in a bowl. Set aside at room temperature for 2 hours. Dough will double in size.
4. To make pizza, remove dough from the bowl. Pat out on the counter into a round, then you can use your knuckles to stretch it thin. It will naturally have a ring of thicker dough around the edge that will be the crust. I found this dough to be very easy to work with. Transfer to your screen or peel, top with your sauce and toppings and bake at 450 F for 15-17 minutes. If using a stone, preheat the oven for 45 minutes beforehand, and use the lowest rack.
Sauce: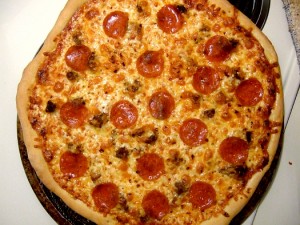 1 ~28 oz can San Marzano or other quality whole peeled tomatoes
1/2 t dried oregano
1/4 t dried basil
2 T tomato paste
1 clove garlic, minced
1/4 t red pepper flakes
salt to taste
1. Crush the tomatoes by hand into a bowl. Remove any stray skin or fibrous stem parts. Do not add any extra puree or juice from the can.
2. Add the other ingredients except tomato paste, then pulse with a stick blender or in a food processor, blender, or food mill. I used my stick blender and it was quick and easy.
3. At this point, judge the consistency. Mine was pretty thin and watery just from the liquid in the tomatoes. If it's too thin, strain through a fine seive for a minute or two until the sauce left in the strainer is the right consistency (or slightly thin, the tomato paste will help thicken slightly).
4. Return it to a bowl if you strained it and add the tomato paste. I needed to add some paste because the tomatoes were not the best quality and were obviously not the ripest. The paste made my sauce thicker and brighter. Also, if you taste the sauce, be aware that the raw garlic will not taste good. This was off-putting, but the cook time in the oven took care of that, don't worry. Let the sauce sit while the dough rises for the flavors to blend.