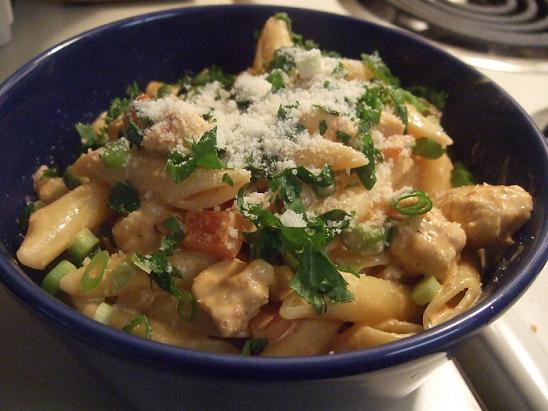 This is not exactly what you would consider a healthy dish. Though, it does get veggie-haters to eat a good amount of veggies. So maybe the veggies even out the massive amount of heavy cream….right?!
Chipotle Chicken Pasta
1 lb short pasta, I use penne
1 lb boneless, skinless chicken breasts
1 c heavy cream
1 c milk
4-6 chipotles in adobo
1 small onion
2 T tomato paste
3 cloves garlic
1 red bell pepper, diced
1 bunch asparagus, cut into 1-inch lengths
1 large handfuls frozen peas
To garnish: chopped cilantro, green onions and parmesan
1. Cook pasta to al dente, timing it so the pasta is complete around the same time the sauce is ready.
2. Using a stick blender, or a blender jar, combine the seeded chipotles and milk until thick and foamy.
3. Clean and chop the chicken. Brown over medium-high heat until cooked through. Remove from pan. Add onions, garlic and red bell pepper. Cook 5 minutes over medium heat. Add tomato paste  and cook until caramelized, about a minute. Add milk and chipotle mixture and bring to a simmer.
4. When the pasta has 6 or 7 minutes of cooking time left, add the asparagus and the chicken to the pan with the chipotle mixture. Simmer for 5 minutes. Add cream and peas, simmer until asparagus is tender and sauce is thickened slightly. Adjust seasoning to taste. Combine the sauce with the drained pasta. Top each plate with green onions, cilantro and parmesan, to taste.