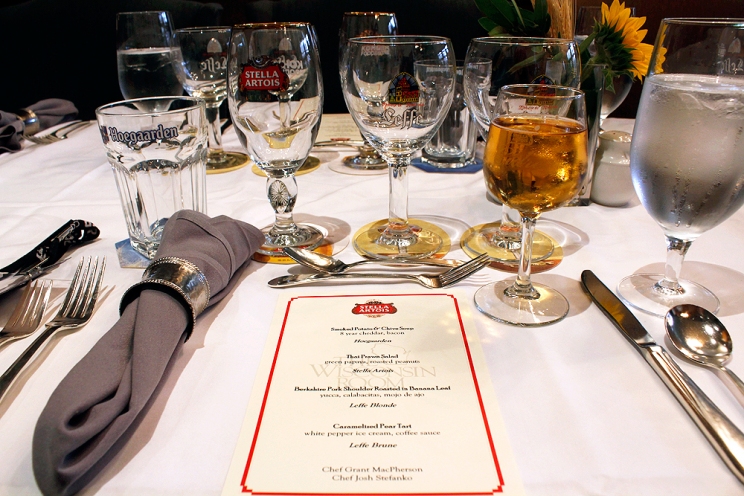 Last weekend I attended the Kohler Food & Wine Experience at The American Club Resort in Kohler, WI. It's an annual event that brings together thousands of people who love food, alcohol and just plain having a great time. This was our–my boyfriend and I–first time in Kohler, though I've been aware of it as a food and golf destination for years. Overall, it was a fantastic time, especially thanks to the Kohler staff and volunteers. (I learned that many of the staffers were volunteers, and they were some of the happiest, most helpful people ever. Kudos to them!)
Our first event was a beer luncheon with Chef Grant MacPherson and Stella Artois.
I didn't know anything about Chef MacPherson until this lunch, and I am now definitely a fan. He's opened some of the largest resorts in Las Vegas and is now working for Viking Ranges. He's got a very rock 'n roll vibe to him, for lack of a better description, and we saw him all over the resort in leather jackets, skull and bones t-shirts and neon-laced sneakers. He was very approachable and clearly happy to be at Kohler.
When we sat down at this lunch, we knew we were going to be drinking a lot, just from the amount of glasses at our place setting. We didn't know at the time that this would be the first of many Stellas through the weekend, since they were a major sponsor and pretty much everywhere.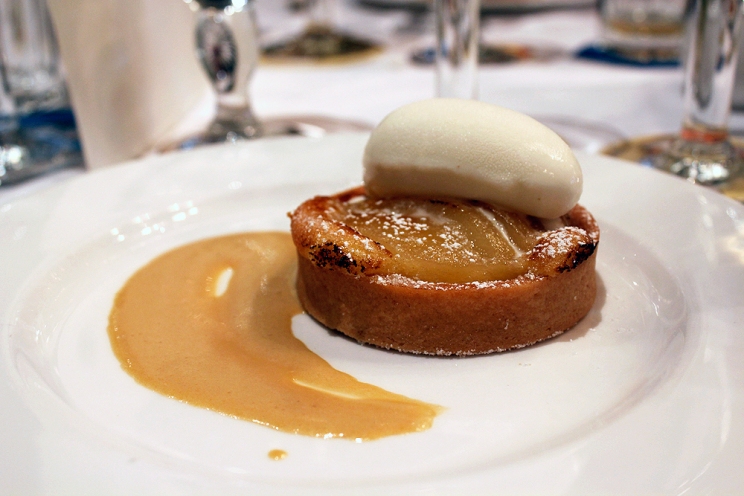 Lunch started with a rich potato and cheddar soup with smoky bacon that was slurped up pretty quickly. Next up was a Thai-inspired papaya salad with grilled shrimp. This one was interesting because I knew it wouldn't go over well with what seemed to the the main clientele, and I was right. Most everyone at our communal table didn't–or wouldn't?–eat it. As far as Thai food goes, it was Americanized, but not as much as it should have been for many people eating it. I, on the other hand, thought it was great, if not a little bland.
Next up was my favorite dish of lunch, a barbacoa-style pork shoulder with yucca and a ratatouille-like stew of squashes, peppers and tomatoes. The pork itself was seasoned perfectly and heavy on the cumin. After all that pork, it was nice to have a relatively light dessert of pear tart with coffee cream and white pepper ice cream.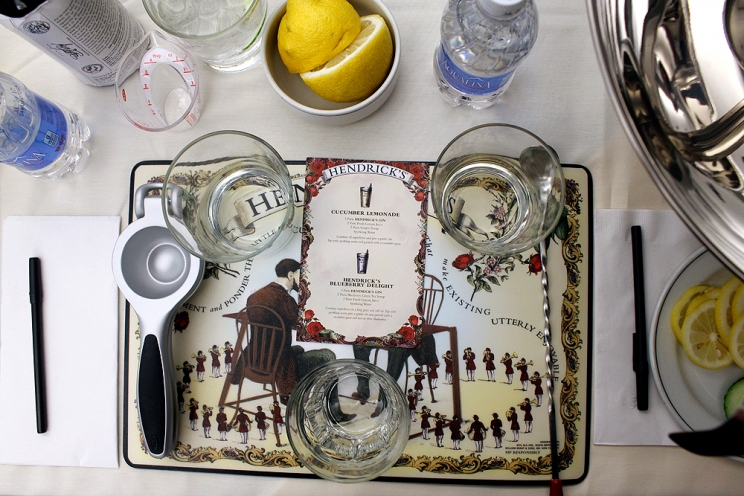 After lunch, we headed immediately over to our first tasting session. I never knew I was a big fan of gin until this Hendrick's cocktail making party. Of course, it probably helped that we had 4+ drinks in the span of an hour (on top of our beer lunch), but the gin punch we made at the end may be making an appearance at my holiday parties. (For that punch recipe, see my Brew City Booze blog post.) We sat next to a couple about our age who was excited to be there, and had a ton of fun. The Hendrick's rep was energetic and personable which goes a long way in making a seminar interesting and less of a sales pitch.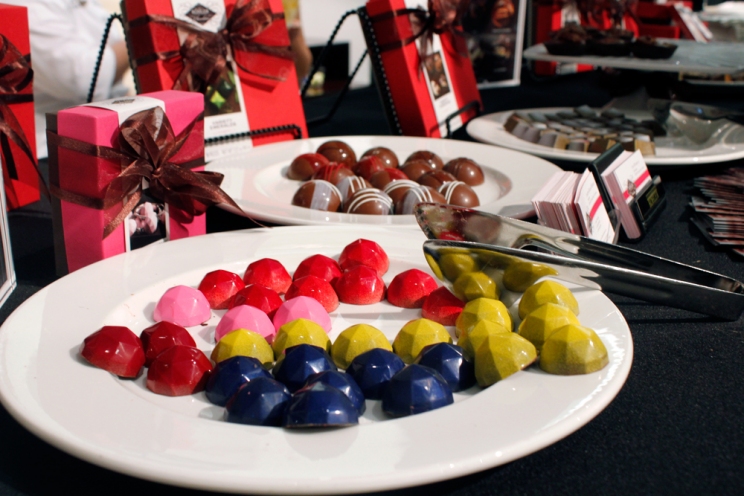 That night (after a nap because holy beer and gin, Batman), we headed to the Kohler Design Center to eat and drink amongst toilets, sinks and showers. It's a little odd, but once you get enough drinks in you, you get used to it. Plus, there were sooo many dream bathrooms to drool over.
The food was high-end all the way, with split king crab legs, oysters on the half shell, sauteed clams, ceviche, and some non-seafood stuff, though I mostly ignored that. There was also a large dessert display, including Kohler's own chocolates. I've found two favorites: the yellow gems filled with pineapple ganache shown above, and an amaretto flavored caramel. Pineapple is one of my favorite fruits, and you don't often see it represented in chocolates. It was surprisingly tart; a great foil to the sweet chocolate. I still have a few more to try that I brought home with me, so I may add to my favorites list.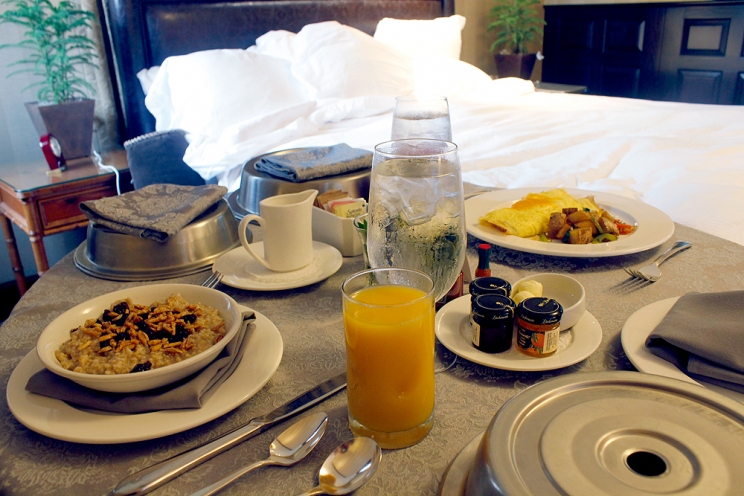 The next morning called for room service breakfast. Because room service breakfast is the BEST. It's a simple luxury and it always makes me think of other times I've traveled. Chai-spiced oatmeal with spiced almonds and dried cherries was delish, as was the omelet and potatoes. And I love the little baby jams and ketchup bottles!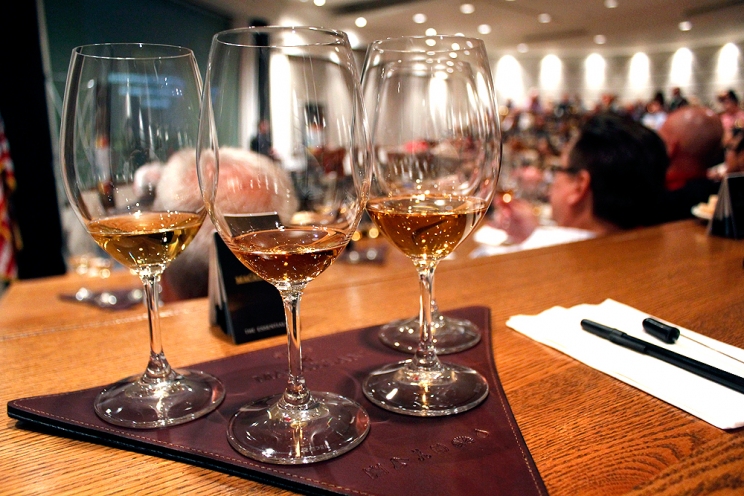 That afternoon we went to a Macallan whisky tasting. The glasses were poured and set before they opened the doors to the theater, and as soon as you walked in you could smell the vanilla and caramel notes of the whisky in the air. We got to try the 10-, 12- and 15-year, along with the Macallan Rare Cask. This was the first time I was able to try multiple ages of whisky side-by-side and notice any differences in them. Of course, the Rare Cask was my favorite, and it turns out I have expensive taste because it's about $350 a bottle. By far the most expensive alcohol I've ever tasted.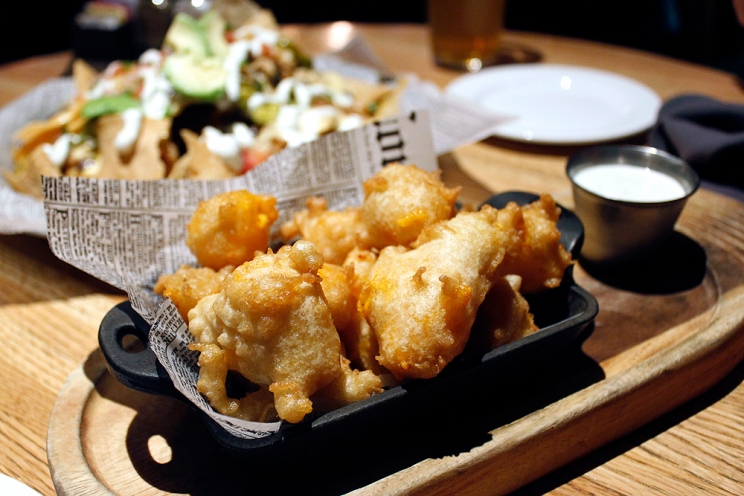 After quite a bit of whisky (see a theme here?) we needed to get something in our stomachs. We had heard that the bar in The American Club, Horse & Plow, had great cheese curds, so we went there for a little fried goodness–and to watch the end of the Badger game. These curds did not disappoint and I'm willing to say that these are the best fried cheese curds I've ever had. In fact, I'm not a huge fan of fried curds usually, they're pretty heavy and I honestly prefer fresh, unfried cheese. But these were spectacular. The batter was light and crispy and the curds melty and huge. They are the ideal fried cheese, if you ask me. Don't pass them up.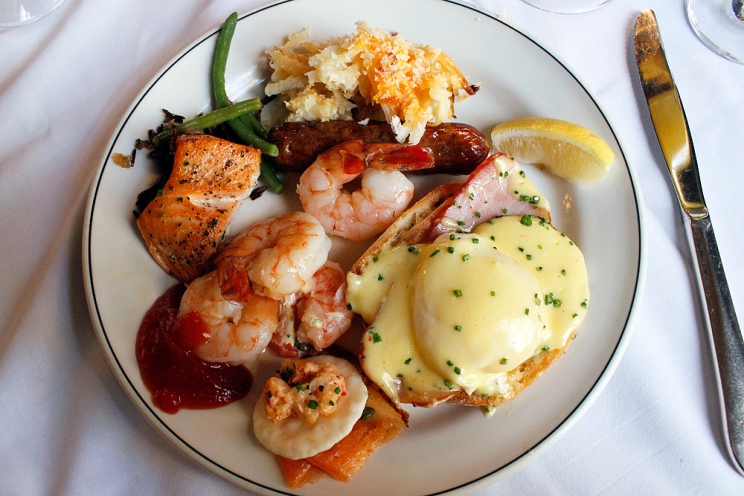 The next morning, we skipped the room service breakfast to get a proper brunch. I'm a sucker for brunch: I enjoy eating sweet and savory things together for breakfast, and I can never get enough chilled shrimp cocktail. This brunch buffet, in the Wisconsin Room, was one of the best in recent memory. Highlights included the eggs benedict with Neuske's Canadian bacon and nice runny yolks, pastrami-cured salmon, chocolate croissants and French toast that had a crunchy bruleed sugar crust and was served with mixed berry compote. It was all washed down with mimosas. What could be better? We ate so much…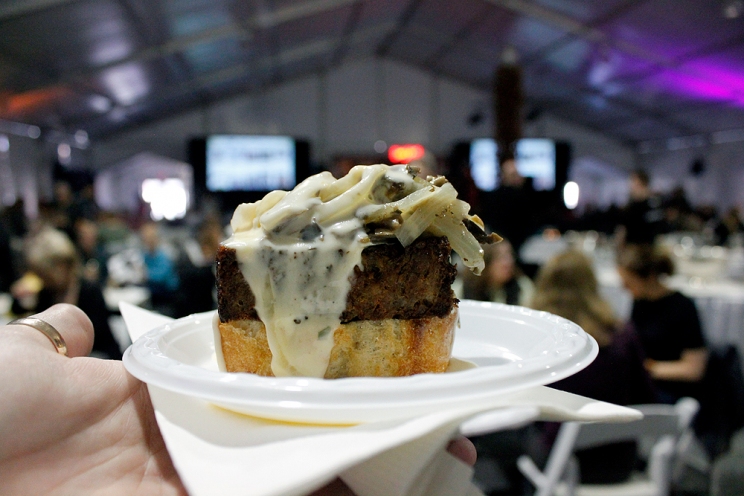 …Which was a real problem because then we were supposed to go eat more food. The last event had already started, and it was a grazing event with items from lots of area restaurants and the resort's dining options. I confess: we didn't really eat much because we went overboard at brunch. We did try the Horse & Plow's meatloaf cheesesteak crostini though, and it was pretty tasty. It's like an open-faced, upscale meatloaf sandwich, covered in homemade cheese sauce and sauteed peppers and onions. Went well with the bloody mary I was sipping.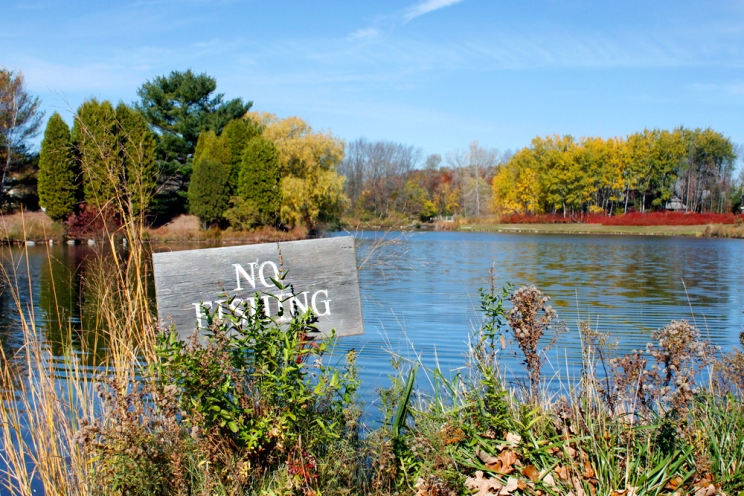 We decided to wander a bit before getting in the car to go home, and came across this "no fishing" sign behind the Shops at Woodlake. The water was clear and there were fish swimming around, so they probably appreciated this sign.
The weekend was a great intro to Kohler and The American Club for a couple of newbies like us. We ate a lot, we drank a lot and we learned a few things, too. It's an easy 35-minute drive since we live on the north side of Milwaukee. I can see us making the trip up when we're craving great cheese curds or when we want to celebrate with a special brunch. Hopefully we'll be back soon.