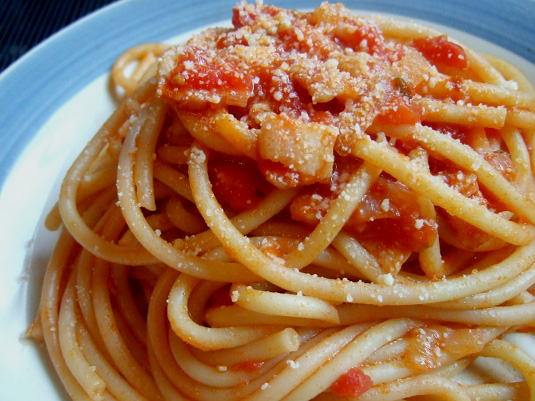 This is a case of do as I say, not as I do. (Though, if you do as I do, it'll still turn out extremely tasty.) Traditionally, this is made with guanciale or pancetta, but I used leftover bacon from carbonara a couple weeks ago (which, coincidentally, should also include guanciale or pancetta over bacon). If you can't find, or don't want to bother using either of those, just use bacon. Traditionally, this recipe calls for romano cheese, but I use parmesan because I always have it on hand. It's still good, just not authentic.
I love this pasta because it's one of those Italian dishes that's so simplistic. A few ingredients, a quick pan sauce, and dinner's ready. The quality of those ingredients really matters though, so don't skimp and use Kraft cheese or crappy canned tomatoes.
Unfortunately, while I love this for it's simplicity, Nick finds it boring and lacking in the meat department. But don't listen to him, this is perfect for summertime when it's hot out and you want something fresh tasting that won't heat up the kitchen for hours on end. You can easily keep all of the necessary ingredients on hand for a quick, cheap meal.
Bucatini — a fat strand of spaghetti that's hollow like a straw — isn't necessary, but we both enjoyed it. Takes you by surprise when your first instinct is to slurp like spaghetti, but it doesn't work because of the hole!
Bucatini all'Amatriciana
1 lb bucatini or spaghetti
1/2 lb guanciale, pancetta or bacon, in 1/2 inch chunks or strips
1 large white onion, sliced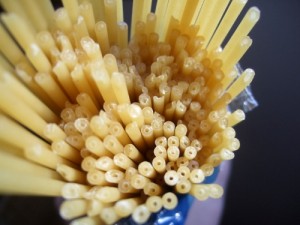 3 cloves garlic, minced
1 t red pepper flakes
28-32 oz can whole tomatoes (preferably San Marzano)
Pecorino romano or parmesan cheese, for serving
1. Cook pasta according to package directions.
2. While the pasta water is coming to a boil, saute onions in a bit of olive oil over medium heat until slightly soft, about 3 minutes. Add garlic, red pepper flakes and guanciale, pancetta or bacon and continue to cook over medium heat until meat is rendered and becoming slightly crisp on the edges, 6-8 minutes more.
3. Add canned tomatoes and juice, breaking tomatoes up with your hands. Simmer until pasta is done, at least 8 minutes. Season with salt and pepper.
4. Combine sauce and hot drained pasta. Serve topped with romano or parmesan cheese.