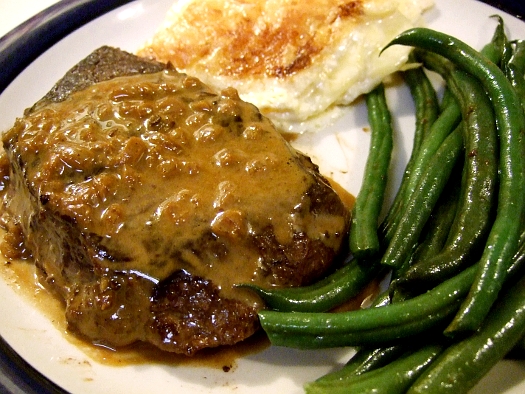 Nick requested steak and baked potatoes last Saturday night. I'm not the biggest fan of either, frankly. I really have to be in the mood for steak, and baked potatoes have never wowed me. The only real steak-and-potatoes-meal I crave is French-style steak frites from one of my favorite restaurants, Chez Jacques.
So, to compromise, I made steak au poivre with brandied cream sauce and potatoes gratin with jarlsberg cheese and cream from a local farm. Even if you're craving a manly man steak and baked potato, how on earth can you say no to that?! Yeah, Nick enjoyed it. So did I, but I think I'm steaked out for the next 6 months or so.
Once again, the steak recipe is adapted from Cook's Illustrated. The potato recipe is a mish-mash from memory from last Christmas and random recipes online. I don't remember exactly what recipe I used last year, but it's pretty difficult to screw up, don't worry. But whatever you do, don't underestimate the amount of baking time those potatoes need. I used two smallish Pyrex dishes, and they still needed about an hour and 15 minutes to just cook through. We were impatient, but they could have cooked another 15 minutes longer for a more mashed-potatoes consistency.
Steak au Poivre with Brandied Cream Sauce
Sauce (I almost doubled the amount of sauce the original recipes makes)
4 T butter
2 shallots, minced
2 c beef broth (must be low sodium as it reduces)
1 c chicken broth (also low sodium)
2/3 c heavy cream
2/3 c brandy
2 t lemon juice (I used lime because that's what I had, no problem)
Steaks
4 strip steaks (or however many you're serving)
1 T black peppercorns, crushed with the bottom of a heavy pot
salt to season
1. Heat 1 tablespoon butter in 12-inch heavy-bottomed skillet over medium heat; when foaming subsides, add shallot and cook, stirring occasionally, until softened, about 2 minutes. Add beef and chicken broths, increase heat to high, and boil until reduced to about 3/4 cup, about 8 minutes. Set reduced broth mixture aside. Rinse and wipe out skillet.
2. Season the steaks with salt on both sides, then rub and pat the peppercorns evenly onto one side of each steak. Sear on unpeppered side first, then turn and continue cooking until it's done to your liking. (CI recommends using an instant-read thermometer to check for doneness: 120 degrees for rare, 125 degrees for medium-rare, and 135 to 140 degrees for medium.) When done, place steaks on cutting board and tent with foil until the sauce is done.
3. To make the sauce, pour reduced broth, cream, and  brandy into now-empty skillet; increase heat to high and bring to boil, scraping pan bottom with wooden spoon to loosen browned bits. Simmer until deep golden brown and thick enough to heavily coat back of metal tablespoon or soup spoon, about 5 minutes. Off heat, whisk in remaining 3 tablespoons butter, lemon juice and any accumulated meat juices. Serve immediately over steaks. And don't forget the bread to sop up the extra sauce!
Potatoes Gratin with Jarlsberg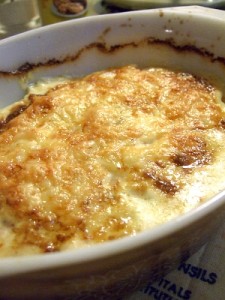 Yukon gold potatoes, sliced thinly on a mandoline, enough to fill whatever containers you're using. For two medium Pyrex dishes, I used about 2.5 pounds.
Heavy cream
Chicken broth
Salt and pepper to taste
Freshly grated nutmeg
Jarlsberg or gruyere cheese, grated. I used about half a pound.
Parmesan, grated
1 clove of garlic
Butter
1. Combine cream and chicken broth at about a 2:1 ratio. You'll want enough to come up about halfway up the sides of your layered potatoes in the pan. Don't worry about guessing, you can easily just pour a bit more cream or broth over the potatoes if you need to.
2. Season the cream mixture with salt and pepper. Use more salt than you think you'll need as potatoes love salt. Grate in a small amount of nutmeg.
3. To prepare your dish, cut the clove of garlic in half and rub it all around the bottom and sides of the dish. Then rub with butter or coat with baking spray.
4. Place a layer of potatoes at the bottom of your dish. You're aiming for about 3 layers, so use about 1/3rd of your potatoes. Top that with a sprinkling of both cheeses. Use the parmesan sparingly.
5. Keep layering for 3 layers of potatoes, then top with the last of your cheese. Pour the cream mixture over the potatoes and let it soak down into the bottom of the pan, it'll take a moment. Pour more cream mixture if neccessary to come up about 1/2-2/3 the way up the potatoes. If you tip the dish a bit, you should see a pool of cream. If you don't have enough of the mixture, just add a bit more cream or broth.
6. Dot the top of the dish with a little butter to help browning. Bake in preheated 350 degree oven, covered, for 30 minutes. Uncover, and continue baking until a knife can be inserted in the middle without resistance. Mine took about an hour and 15 minutes. The top will get golden brown and crunchy.