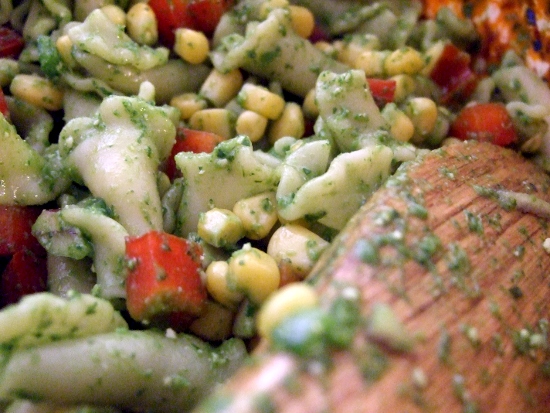 When I was in college, we had a little cafe in one of our academic buildings that served cilantro petso pasta salad. I love regular pesto, but I really love cilantro, so it's a perfect fit. I made a standard cilantro pesto and added some veggies for crunch and color. Tasty!
Cilantro Pesto Pasta Salad
1 lb pasta, I used campanelle
~3 c cilantro (about 1.5 bunches)
5 T olive oil
juice of half a lime
1 large clove garlic, crushed
1/3 c parmesan
1/4 c skinned almonds or walnuts
1 large jalapeno, seeded and minced
1/2 small red onion, finely diced
1 small red bell pepper, diced
1 c sweet corn
1. Cook pasta according to package directions, but slightly undercook (it will soften more as it chills). Rinse under cold water and let sit at room temperature until ready to make the salad.
2. Put garlic, cilantro, nuts, olive oil, lime juice and parmesan into blender. Pulse until smooth. Add water if necessary to thin.
3. Combine pasta with pesto and veggies. Add S+P to taste. Chill until ready to use!